Weed Gatling Pea is the Evolution of Weed Repeater. When the rage mode activated, the attac state will boosted up automaticly.
Weed Gatling Pea

A WeedGP.

Attack:

100 (20000! in Rage Mode!)

Defend:

100 (Sadly 25 in Rage Mode)

Sp.Attack:

95 (1000 in Rage Mode!)

Sp.Defend:

50 (500 in Rage Mode)

Speed:

105 (5000 in Rage Mode!)

Total:

450

Ability:

Health:

350
Weed Repeater and WeedGP is a Legendary Plant that can only be obtained by an event.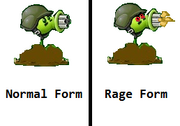 Learnset:
This article is a

stub

. Please help

expand it,

or the zombies will eat your brains!
In the Rage mode this plant ranked as Morticultularist plant.
To activate the Rage Mode, just give it a Jolokia Stem .
Ad blocker interference detected!
Wikia is a free-to-use site that makes money from advertising. We have a modified experience for viewers using ad blockers

Wikia is not accessible if you've made further modifications. Remove the custom ad blocker rule(s) and the page will load as expected.